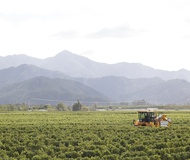 2018 Harvest Report
In spring 2017 bunch numbers were down 15% on long term average so everything was pointing to moderate yields at harvest. However, perfect weather conditions in December over the flowering period led to excellent fruit set and very high potential bunch weights. The Mount Riley team sprang into action to reduce yields across all varietals to ensure we were able ripen fruit and produce quality wines.
A very warm summer (January was the hottest on record) had us believing we were on track for one of the earliest harvests we've ever had. Unfortunately we also had the wettest late January and February on record with 50% of our annual rainfall falling in these months. Another 85mm of rain right at the beginning of harvest in early March really set things up for a super challenging vintage.
Fortunately, because of the mid-summer heat, we had physiological and flavour ripeness at low sugar levels and fruit was harvested relatively early. Moderate yields, along with open canopies were also a lifesaver to allow plenty of sunlight penetration onto the fruit zone and ameliorate disease pressure. Whilst it wasn't the earliest start to vintage we've ever had, it was certainly the earliest finish with 90% of our fruit coming off before the end of March which is unheard of for us.
Aromatic whites again look excellent this year with our Estate Sauvignon Blanc, Pinot Gris and Gewurztraminer looking particularly smart. Pinot Noir is delicate and aromatic and our Estate Chardonnay will be on par with the 2017.
Another vintage done, again with some unique challenges – I'm already looking forward to vintage 2019!
Enjoy & cheers, Matt